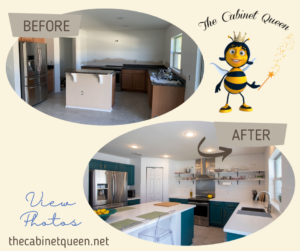 Is Professional Cabinet Refinishing Worth It?
April 2022
Are the cabinets in your home looking drab? Have you been asking yourself if professional cabinet refinishing is worth it? If you are considering having the cabinets in your home refinished, here are five reasons why you should hire a professional.
Thorough Preparation and Planning
One of the essential keys to any project's success is having thorough preparation and planning before the project is even started – this includes everything from sanding and stripping old paint to surface cleaning and refinishing. Hiring a professional to refinish your cabinets guarantees all the preparation and planning necessary to ensure you get the high-quality work you and your cabinets deserve.
Great Cabinets Demand Great Work
Have you spent weeks, months, or even years looking for the perfect cabinets? Have you been looking to do something different with your cabinets? When you want to change the look of cabinets that you love, you don't want to throw some paint on them – there is a good chance that they won't turn out as you were expecting. Going DIY is a great way to rehab pieces of furniture from a garage sale. But when dealing with cabinets, especially those with lots of details and touches that are intricately carved into the surface, you want to be sure that all edges are treated evenly – ensuring your cabinets look amazing when finished. Remember, great-looking cabinets deserve great work.
Achieve a Factory-Like Finish
Whether it is paint or a layer of finish, when homeowners go DIY, they tend to use a brush or roll. And there are a lot of cabinet refinishing experts that believe that this is the quickest way to ruin the cabinets that you love. However, if you want to achieve a factory-like finish, you need to spray them with a finishing spray – which can be risky if the preparation is not done correctly.
Get It Done With The Right Tools
Refinishing your cabinets can be daunting, especially when following all the correct procedures. So, when refinishing your cabinets and giving them a new and refreshed look, the pros will get the job done quickly and properly – thanks to all their expert knowledge and tools. The professionals have access to specialty commercial products and tools which you can't buy at home depo. But they also have a lot of experience to use to help fix any issue along the way.
Professionalism that Comes with Guarantees
But the best thing about hiring cabinet refinishing professionals is that all their work comes with guarantees. For example, your work will be done on time and correctly the first time – and some companies will even give you a warranty ranging from a few days to a few weeks following the refinishing. So, when you hire a professional cabinet refinishing company, you will get a guarantee of when your work will be completed, and you will know that the quality of the work will be nothing but grade A and high quality.
Specializing in cabinet refinishing in Florida, why reface or replace your old cabinets when The Cabinet Queen can give you a new look with our professional cabinet refinishing services. By using our high-quality paint products, it is time that you let The Cabinet Queen professionally refinish your existing wood, laminate, and thermofoil cabinets. Schedule your estimate today! For more information, contact The Cabinet Queen today.