Why You Should Hire a Professional for Kitchen Cabinet Painting and Refinishing
When it comes to upgrading your kitchen cabinets, you may be torn between buying new cabinets or saving money by refinishing what you already have. However, how do you know who to trust with such a highly visible project like painting your cabinet doors and drawers? No worries. This guide will help you select the right professional for the job so that you can sit back and admire the dream kitchen you've always envisioned.
Why Refinish Your Cabinets
Before getting into who to hire for your new kitchen cabinet aesthetic, let's take a closer look at your upgrading options. There are three choices for changing the look of your cabinets.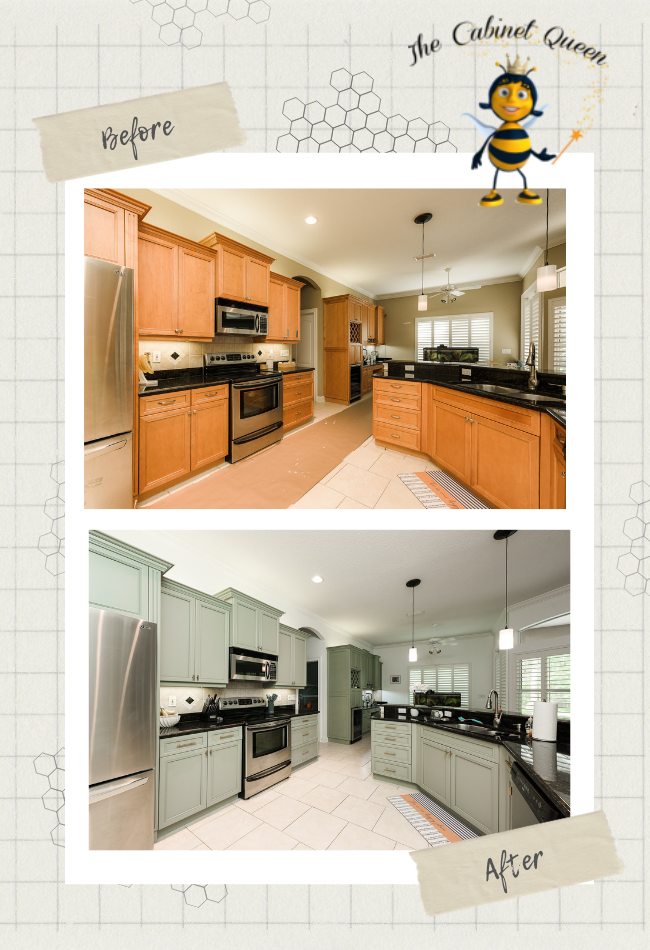 Replacing – The most expensive of the three cabinet upgrading options, replacing your cabinet doors and drawers will provide the look you want. But, it will come at a steep price! Not only will you pay for freshly customized cabinets to fit your space, but you will also need to cover the cost of installation. This is assuming you do not want the specialty finishes that will add more to the bill. Then, there is the long wait time as your cabinets are built, painted or stained, shipped, and installed.
Refacing – When refacing your cabinets, a strong adhesive will be applied and a new material, such as a wood veneer, laminate, or thermofoil, will be placed on top of the existing cabinet's finish. This process is typically faster and significantly cheaper than replacing your cabinets when the project is completed by a qualified professional. However, it will still come with an unnecessary up-charge as long as your cabinets are in good condition. This is because there are added materials, labor expenses, and steps involved in the process. Also, you may have to contend with the applied material peeling away from the edges over time.
Refinishing – If your cabinets are in good shape, you can typically have them refinished at less than half the price of refacing. There are many benefits to professionally refinishing your cabinets like getting the polished look you want without going over budget, avoiding the issues that can come with refacing materials that don't match up or fall away from the edges over time, and saving time as well as frustration by simply having a local expert do the work.
Flexible Refinishing Options
Whether they are wood, laminate, or thermofoil, your local cabinet refinishing professional can work with them all! Instead of having to select one material over another to replace or reface your cabinets or worrying about which paint or tools to use for the types of cabinets you have, your refinishing pro will have the right tools, paint, and expertise to work with your existing cabinets and complete the job hassle-free.
Work is Done Locally by Experts
When you hire a professional to refinish your cabinets, you can expect them to complete the project either on site or nearby. This is because nothing needs to be "sent off" to some third party you have not met. Everything, including the cleaning, priming, sanding, and painting stages, can be performed within a fairly quick turnaround time by the professionals you know and trust.
A Professional Aesthetic You can Trust
In other words, no more stress over how to line up and apply a veneer wood over your cabinet doors or whether you should spring for the faster shipping options. Your Cabinet Queen team will use only the best tools, tried-and-true paints, and highest-quality materials from trusted brands for the look you want. Moreover, you can feel confident in our experience using the top techniques that show off your cabinet color – not the paint lines. View some of our most popular projects on our website and discover the easy way to upgrade your kitchen, living room, and bathroom cabinets at an affordable price today!
Hear What Our Clients Have to Say 


Your Dream Kitchen Awaits!
As our clients have shared, the lower prices and talent are here at The Cabinet Queen. Enjoy savings you can put towards new appliances, flooring, or decorative touches to transform your kitchen into the one you love to cook, gather, or overall hang out in. At such an affordable rate, there is no reason left to wait.
Contact us for your refinishing estimate today (386) 500-8558 and let's get started turning your kitchen, living room, or bathroom into the room you've been dreaming about with cabinet refinishing by the experts at The Cabinet Queen.