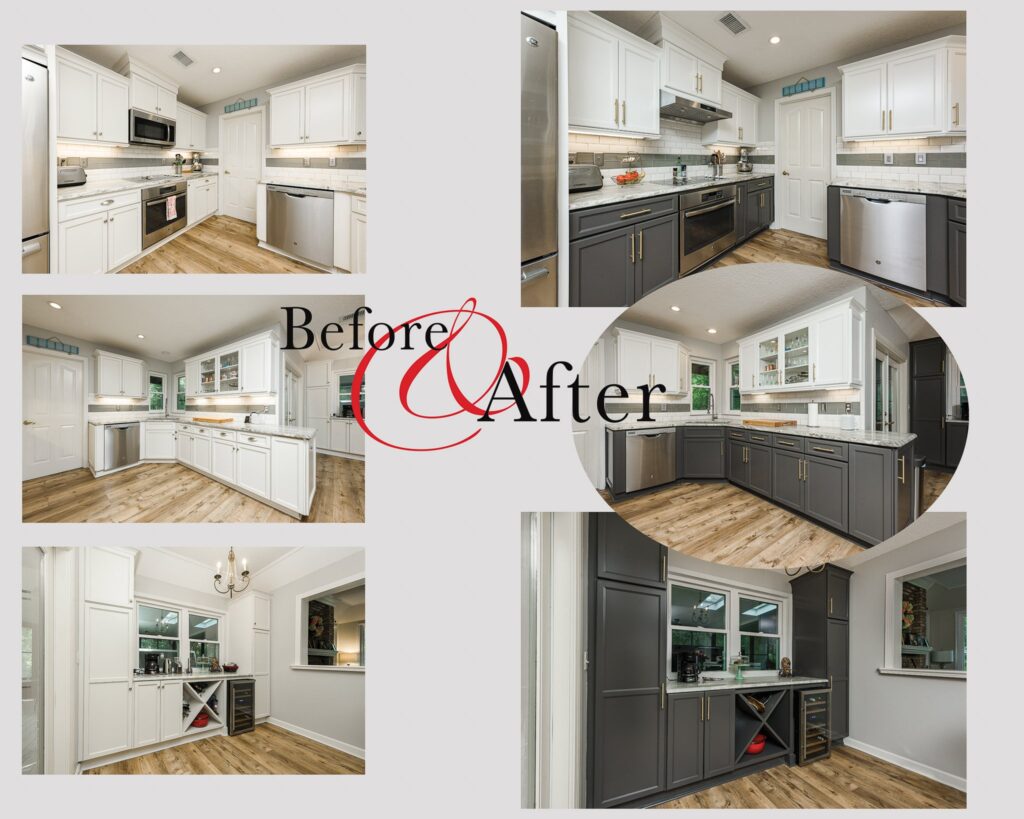 Replace, Reface, or Refinish – Which is Best for Your Kitchen Cabinets?
September 2022
Nothing makes an outdated kitchen look trendy and fresh like replacing, refacing, or refinishing the cabinets. But, how do you choose which method is best for Florida homes and commercial properties? Let's take a closer look at these three methods and how easy it can be to get the kitchen of your dreams for less money than you might think.
Replacing
If your first thought about upgrading your kitchen cabinets is replacing them, you are not alone. The idea of brand new cabinets where you can choose the color, size, design, and material is be tempting. But, what if you could skip the enormous price tag that comes with this option and give that same fresh look to your current cabinets at a fraction of the price? What could you do with the extra money left in your budget?
In addition to the price of the cabinets themselves and the labor to have them installed, there are other cost considerations for replacing to include in your budget. For instance, you will need to allow extra room for replacing handles or pulls plus any molding, trim, or wall damage that may occur in the demolition or installation process. Then, there is the potential for backordering and the wait time for delivery. Don't forget those delivery fees!
Refacing
Assuming your cabinets are in relatively good shape, refacing is a less expensive option for cabinet upgrades than replacing. The process typically involves placing rigid thermofoils (RTF), wood veneer, or plastic laminate over the exposed frame of the cabinets while the front of doors and drawers are replaced. The cost is considerably less than replacing the entire cabinet. However, there is always a risk the veneer could peel back over time.
What if my cabinets are custom-built and have lots of detailing? If you do not have a plain cabinet frames, then your choices for the refacing finish will likely be reduced to either RTF or wood veneer, depending on the design and overall look you are after.
Refinishing
Here's the exciting news! What if we said there is a way to get the best of both replacing at refacing methods at less than half of the replacement cost? The Cabinet Queen have over 30 years in the painting and refinishing industry. They will apply that invaluable knowledge to give your cabinets the look you want at a lower cost than both refacing and replacing while keeping the flexibility you love about getting new cabinets.
With refinishing, the beauty is in the ability to decide the exact color of paint or stain you have been imagining without trying to see it online and envision it in your home. This means you can purchase paint and stain samples and brush them onto cardboard you hold up beside the cabinets to get an idea of the color from all angles throughout the day and evening hours as color changes with the light. Then, simply tell The Cabinet Queen your favorite colors and watch them go to work!
So, let's recap – with refinishing, there is no waiting for deliveries, no added fees for extra materials, and no damage to the molding, trim, and walls to repair. Plus, you get a fresh look with more control over the color and at a lower price than refacing. All it takes to set up is one call to The Cabinet Queen that knows how to take your kitchen from "mundane" to "magnificent" on a budget!
Professional Refinishers at The Cabinet Queen in Florida
Can you picture the big reveal? Imagine a brand new kitchen and all you had to do was let the professionals at The Cabinet Queen refinish your cabinets and in less than a week after selecting your color, you will be able to admire your fresh look and the savings you have left over from your renovation budget that could be used for flooring, windows, or countertops. Your dream kitchen starts here with the experienced professionals at The Cabinet Queen. Reach out to us by calling (386) 500-8558 and ask us anything about upgrading your cabinets today!