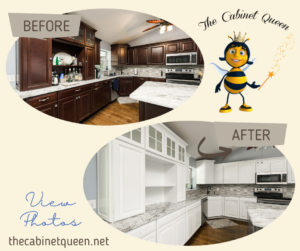 The Optimal Method for Refinishing Kitchen Cabinets: Professional Spray Application
July 2023
Are you looking to breathe new life into your kitchen? The Cabinet Queen has the perfect solution for you. We specialize in professional spray application for refinishing kitchen cabinets, and we're ready to help you achieve stunning and long-lasting results. Here's why our technique is the optimal choice:
Superior Finish Quality:
Say goodbye to imperfections. Our professional spray application ensures an impeccable and uniform appearance for your cabinets. Our owner, Lisa Musolino, uses top-of-the-line spray equipment to provide a smooth and flawless surface. Our process and high-quality materials will make your cabinets look brand new without brush or roller marks.
Time Efficiency:
We understand the value of your time. Our professional spray application saves significant time compared to traditional methods. With our specialized spraying system and skilled professionals, we minimize disruption to your daily routine and give you faster access to your newly refreshed kitchen.
Seamless Coverage:
No nook or cranny goes untouched. Our fine-finish spray gun ensures complete coverage, even in hard-to-reach areas. You can trust that every detail of your cabinets will receive meticulous attention, resulting in a seamless and professional look throughout your kitchen.
Durable and Long-Lasting Results:
We know your cabinets need to withstand daily wear and tear. Our professional spray application utilizes high-quality coatings designed to endure the test of time. These specialized finishes are resistant to chipping, peeling, and fading, ensuring your cabinets remain beautiful for years.
Expertise and Experience:
Experience matters. At The Cabinet Queen, our team of refinishing professionals has the expertise and experience to deliver outstanding results. We are well-versed in spray application techniques, materials, and equipment. When you entrust your kitchen cabinets to us, you can expect a flawless and hassle-free experience.
Ready to transform your kitchen cabinets in the Daytona Beach, Daytona Beach Shores, South Daytona, Ormond Beach, Port Orange, Flagler, Palm Coast, and Orlando areas of Florida? Choose the optimal method for breathtaking results—our professional spray application process. Let The Cabinet Queen's skilled experts turn your cabinets into a stunning centerpiece of your kitchen. Visit our website https://www.thecabinetqueen.net/, or contact us at (386) 500-8558 to schedule a consultation or learn more. We're excited to work with you!