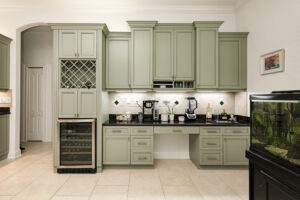 Why You Should Refinish Your Cabinets Instead of Replacing Them
November 2022
Have you been playing with the idea of modernizing your kitchen lately? Maybe you're tired of outdated cabinets or things are looking a bit worn. Maybe a family member or neighbor commented on your boring kitchen cupboards during your last get-together. Or maybe you're just ready for a new fresh look. There are some good reasons to consider refinishing your cabinets instead of replacing them entirely. 
Your Cabinets Are Structurally Sound
Most kitchen cabinets are built to last. During the installation, those cabinets are anchored to the support beams of your walls to ensure they stand the test of time. If your kitchen cabinets are still structurally sound, you may consider refinishing them instead of replacing them entirely. Even slight damage to your cabinets might be fixable without having to replace everything.

When you refinish your existing cabinet, you can expect to pay much less than for a full remodel. Your cabinets will still be usable during the process, and it can be a great way to get an aesthetic refresh for this part of your home. Afterward, it will feel like a brand-new kitchen to you.

Refinishing Is More Eco-Friendly
"Reduce, reuse, recycle" is a good mantra to live by. Refinishing your kitchen cabinets is definitely an eco-friendlier option, especially if your cabinets are structurally sound. It's difficult to uninstall kitchen cabinets and reuse them, especially if they're customized to fit your kitchen space. During the demolition process, you usually end up with a lot of unusable parts that end up in a landfill.

Refinishing kitchen cabinets doesn't waste the raw materials you already have. You only need minimal materials to make your kitchen cabinets look brand new. Varnish, paint, and even new doorknobs can provide stunning eco-friendly results. You can even find eco-friendly finishing materials to reduce your carbon footprint further.


Your Kitchen 


Maybe there's nothing wrong with your kitchen, and it just looks outdated. That's still a good reason to consider refinishing the cabinets. An outdated kitchen can reduce the overall value of your house because people are very particular about their kitchens. Refinishing the kitchen cabinets can help you get more money for the house or find a buyer faster because potential buyers are always looking for a beautiful home they don't have to renovate.

 

If you're not interested in selling your home, refinishing your kitchen cabinets will make it feel more like home. You deserve a kitchen you love. It might make you more likely to stay in and cook or even host dinner parties.
 
You Can Use Your Creativity
When you purchase new kitchen cabinets, you don't get to customize your options. The manufacturers may offer a selection of finishes and colors, but you can't personalize it the way you want to. Sometimes you can find the style you want, but the finishes aren't available for the cabinets you choose.

If your creativity knows no bounds, refinishing your kitchen gives you the most freedom possible. You can select whatever type of finish you want, and you can personalize your cabinets down to the doorknobs. As a result, your kitchen will be truly unique.


Refinishing Takes Less Time
While it takes time to refinish kitchen cabinets, a complete tear-down and new installs take even longer. Not only do you have to deal with having contractors in your house for weeks, but you also won't have the ability to use your kitchen for cooking during the process of replacing those cabinets.

Demolishing the existing kitchen cabinets and reinstalling new ones is a very noisy process. Even if you have the option of working from home while the contractors get busy, it won't be easy to focus. Refinishing the cabinets takes a lot less time. And it won't impede your ability to cook dinner or use the cabinets for storage. 
Are You Ready for an Updated Kitchen?
Maybe you don't need an updated kitchen, but wouldn't it be nice to have one anyway? If you've thought about remodeling the kitchen and shrunk away from the cost, you might consider refinishing those cabinets instead. We'd love to talk to you about your ideas for your kitchen and make them a reality!